Wastewater Treatment
PACT provides available solution to meet the wastewater treatment and reclaim/reuse requirements of most industries with particular emphasis on the semiconductor, pharmaceutical, automobile, chemical, steel, aluminum and food & beverage industries. PACT has designed and built several wastewater treatment plants in each of the aforementioned categories.PACT services include wastewater analysis; pilot studies to confirm effective and cost efficient treatment; process and detailed design; assisting the client in the EPB (Environmental Protection Bureau) approval process; manufacturing of components; installation; commissioning and plant operation for an interval of time.
Wastewater Treatment to Meet Discharge Standards
PACT has provided many successful wastewater treatment solutions for most industries to meet discharge requirements. Please visit http://www.pactasia.com/site/success to learn more.
Wastewater Treatment for Water Reuse

Water recycling within an industrial plant is normally an integral part of the industrial process, and treated and reclaimed water is recycled to conserve water and avoid stringent discharge requirements. Industrial water use includes water for such purposes as processing, washing, landscaping and cooling in facilities that manufacture products.
Wastewater Treatment for Zero Liquid Discharge
On some occassions, wastewater is required to be zero discharge strictly to protect waters. So, evaporation besides essential wastewater treatment processes is needed to realize zero effluent discharge. Meanwhile, wastewater can be also treated to be reused as washing, landscaping and make up of cooling towers.
PACT has provided EPC service of Zero Effluent Discharge for Ecolab's facility at Taicang. It is located at Lake Tai Area where zero phosphate and ammonia discharge is strictly required. Based on the client's interests, process safety and operation-friendly requirements, the technologies of triple effect evaporator following with MBR are adopted for wastewater treatment.The treatment achieved reduction of CODCrby 99.6%, TDS by 90%, TP by 99.8%, and TN by 90%. The treated wastewater is reclaimed for either grass watering or as make-up water for cooling water system.
PACT Document Download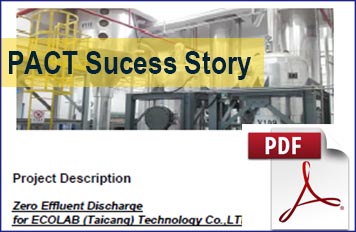 Zero Effluent Discharge Project for Ecolab by PACT